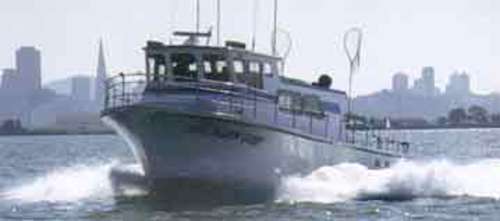 Pacific Pearl
Owner:
Andrew Guiliano
Captains:
Andrew Guiliano
Physical Address:

Pacific Pearl Sportfishing
3310 Powell Street
Emeryville, CA 94608
Formerly the New Salmon Queen, the Pacific Pearl came under new ownership in 2018 and underwent a complete renovation. New interior, galley and seating, along with a complete engine refit, the Pacific Pearl is ready to set the standard in Bay Area Sportfishing. Whether its Salmon, Rockfish, Halibut, Striped Bass or Crab Combo, she' s fast and clean, ready to take you on a fishing adventure.
To make your reservation please click on the green button next to the trip you would like to go on. Then follow the instructions to complete your reservation.

July, 2018

Pacific Pearl
Salmon Trolling

Fri. 7-20-2018

6:00 AM

Fri. 7-20-2018

4:00 PM

16

$150

*LIMITED LOAD*

Pacific Pearl
Salmon Trolling

Sat. 7-21-2018

6:00 AM

Sat. 7-21-2018

4:00 PM

15

$175

*LIMITED LOAD*

Pacific Pearl

Potluck

Charter

Sun. 7-22-2018

6:00 AM

Sun. 7-22-2018

4:00 PM

Pacific Pearl
Salmon Trolling

Mon. 7-23-2018

6:00 AM

Mon. 7-23-2018

4:00 PM

15

$150

*LIMITED LOAD*

Pacific Pearl
Salmon Trolling

Tue. 7-24-2018

6:00 AM

Tue. 7-24-2018

4:00 PM

15

$150

*LIMITED LOAD*

Pacific Pearl

Salmon Trolling

Charter

Wed. 7-25-2018

5:30 AM

Wed. 7-25-2018

4:00 PM

Pacific Pearl
Salmon Trolling

Thu. 7-26-2018

6:00 AM

Thu. 7-26-2018

4:00 PM

16

$150

*LIMITED LOAD*

Pacific Pearl
Salmon Trolling

Fri. 7-27-2018

6:00 AM

Fri. 7-27-2018

4:00 PM

12

$175

*ULTRA-LIMITED LOAD*

Pacific Pearl
Salmon Trolling

Sat. 7-28-2018

6:00 AM

Sat. 7-28-2018

4:00 PM

12

$175

Andy running trip *LIMITED LOAD*

Pacific Pearl
Salmon Trolling

Sun. 7-29-2018

6:00 AM

Sun. 7-29-2018

4:00 PM

15

$175

andy running trip *LIMITED LOAD*

Pacific Pearl
Salmon Trolling

Mon. 7-30-2018

6:00 AM

Mon. 7-30-2018

4:00 PM

15

$150

*LIMITED LOAD*

Pacific Pearl
Salmon Trolling

Tue. 7-31-2018

6:00 AM

Tue. 7-31-2018

4:00 PM

15

$150

*LIMITED LOAD*

August, 2018

Pacific Pearl
Salmon Trolling

Wed. 8-1-2018

6:00 AM

Wed. 8-1-2018

4:00 PM

15

$150

*LIMITED LOAD*

Pacific Pearl
Salmon Trolling

Thu. 8-2-2018

6:00 AM

Thu. 8-2-2018

4:00 PM

15

$150

*LIMITED LOAD*

Pacific Pearl

Full Day

Charter

Fri. 8-3-2018

6:00 AM

Fri. 8-3-2018

4:00 PM

Pacific Pearl
Salmon Trolling

Sat. 8-4-2018

5:30 AM

Sat. 8-4-2018

3:00 PM

15

$175

*LIMITED LOAD*

Pacific Pearl
Salmon Trolling

Sun. 8-5-2018

6:00 AM

Sun. 8-5-2018

4:00 PM

15

$175

*LIMITED LOAD*

Pacific Pearl

Salmon Trolling

Charter

Mon. 8-6-2018

6:00 AM

Mon. 8-6-2018

4:00 PM

Pacific Pearl
Salmon Trolling

Tue. 8-7-2018

6:00 AM

Tue. 8-7-2018

4:00 PM

15

$150

*LIMITED LOAD*

Page 1 of 9 Next>