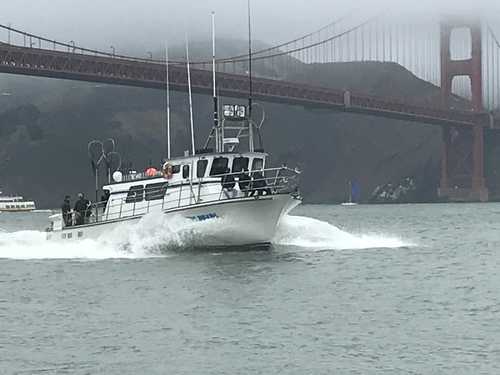 Pacific Pearl
Owner:
Andrew Guiliano
Captains:
Jim Holloway
Physical Address:

Pacific Pearl Sportfishing
3310 Powell Street
Emeryville, CA 94608
Formerly the New Salmon Queen, the Pacific Pearl came under new ownership in 2018 and underwent a complete renovation. New interior, galley and seating, along with a complete engine refit, the Pacific Pearl is ready to set the standard in Bay Area Sportfishing. Coast Guard Certified to carry 35 passengers out to 100 miles, she's available for offshore exploration and research trips. Whether its Salmon, Rockfish, Halibut, Striped Bass or Crab Combo, she' s fast and clean, ready to take you on a fishing adventure.
Charter Rates
Trip Types
Season
Anglers
Mon - Fri
Sat - Sun
Private Charter
Dungeness Crab/Rockfish combo
25
$3,600
$3,600
Private Charter
Salmon
18
$2,500
$2,800
Private Charter
Salmon, Potluck, and Rockcod/Lingcod
25
$2,500
$2,800
Prices subject to change without notice. Call the landing for exact pricing.
To make your reservation please click on the green button next to the trip you would like to go on. Then follow the instructions to complete your reservation.

January, 2020

Pacific Pearl
Crabs and Dabs

Sat. 1-25-2020

6:00 AM

Sat. 1-25-2020

3:00 PM

20

$145

Pacific Pearl
Private Trip

Sun. 1-26-2020

10:00 AM

Sun. 1-26-2020

1:00 PM

0

$0

NEW!! Natural History Tour of the Islands of San Francisco Bay With DIY Naturalist Shawnecee Schneider

Pacific Pearl
Crabs and Dabs

Fri. 1-31-2020

6:00 AM

Fri. 1-31-2020

3:00 PM

25

$145

February, 2020

Pacific Pearl
Natural History of SF Bay

Sun. 2-9-2020

10:00 AM

Sun. 2-9-2020

1:00 PM

30

$45

NEW!! Natural History Tour of the Islands of San Francisco Bay With Documentary Filmmaker Shawnecee Schneider

Pacific Pearl
Richmond History Tour

Sat. 2-15-2020

10:00 AM

Sat. 2-15-2020

1:00 PM

30

$55

Richmond Waterfront Tour with Liam O'Donoghue from East Bay Yesterday

Pacific Pearl
Natural History of SF Bay

Sun. 2-23-2020

10:00 AM

Sun. 2-23-2020

1:00 PM

30

$45

NEW!! Natural History Tour of the Islands of San Francisco Bay With Documentary Filmmaker Shawnecee Schneider

Pacific Pearl

San Francisco Waterfront Tour

Charter

Fri. 2-28-2020

4:00 PM

Fri. 2-28-2020

6:30 PM

SPECIAL EVENT! "Hidden San Francisco: A Guide to Lost Landscapes, Unsung Heroes, and Radical Histories" Book Release Celebration and Benefit for Shaping San Francisco with "City Front" tour led by author Chris Carlsson. Purchase tickets by going to the following link: https://www.brownpapertickets.com/event/4461523

Pacific Pearl
Richmond History Tour

Sat. 2-29-2020

10:00 AM

Sat. 2-29-2020

1:00 PM

30

$55

Richmond Waterfront Tour with Liam O'Donoghue from East Bay Yesterday

March, 2020

Pacific Pearl
Dungeness Crab

Sat. 3-7-2020

6:00 AM

Sat. 3-7-2020

12:00 PM

27

$120

Pacific Pearl
Dungeness Crab

Fri. 3-13-2020

6:00 AM

Fri. 3-13-2020

12:00 PM

27

$120

Pacific Pearl
San Francisco Waterfront Tour

Fri. 3-13-2020

4:00 PM

Fri. 3-13-2020

6:30 PM

30

$55

"City Front" Tour with Chris Carlsson of Shaping San Francisco 3:30 Departure from Emeryville Marina, 4 PM Departure from Pier 40, San Francisco

Pacific Pearl
Richmond History Tour

Sat. 3-14-2020

10:00 AM

Sat. 3-14-2020

1:00 PM

30

$55

Richmond Waterfront Tour with Liam O'Donoghue from East Bay Yesterday

Pacific Pearl
Richmond History Tour

Sat. 3-21-2020

10:00 AM

Sat. 3-21-2020

1:00 PM

27

$55

Richmond Waterfront Tour with Liam O'Donoghue from East Bay Yesterday

Pacific Pearl
AM Half Day

Fri. 3-27-2020

6:00 AM

Fri. 3-27-2020

12:00 PM

27

$95

Potluck in the Bay for Striped Bass and Halibut

Pacific Pearl
San Francisco Waterfront Tour

Fri. 3-27-2020

4:00 PM

Fri. 3-27-2020

6:30 PM

30

$55

"City Front" Tour with Chris Carlsson of Shaping San Francisco 3:30 Departure from Emeryville Marina, 4 PM Departure from Pier 40, San Francisco

Pacific Pearl
Richmond History Tour

Sat. 3-28-2020

10:00 AM

Sat. 3-28-2020

1:00 PM

30

$55

Richmond Waterfront Tour with Liam O'Donoghue from East Bay Yesterday

Pacific Pearl
AM Half Day

Sun. 3-29-2020

6:00 AM

Sun. 3-29-2020

12:00 PM

27

$95

Potluck in the Bay for Striped Bass and Halibut

April, 2020

Pacific Pearl
AM Half Day

Wed. 4-1-2020

6:00 AM

Wed. 4-1-2020

12:00 PM

27

$95

Potluck in the Bay for Striped Bass and Halibut

Pacific Pearl
AM Half Day

Thu. 4-2-2020

6:00 AM

Thu. 4-2-2020

12:00 PM

27

$95

Potluck in the Bay for Striped Bass and Halibut

Pacific Pearl
AM Half Day

Fri. 4-3-2020

6:00 AM

Fri. 4-3-2020

12:00 PM

27

$95

Potluck in the Bay for Striped Bass and Halibut

Page 1 of 14 Next>