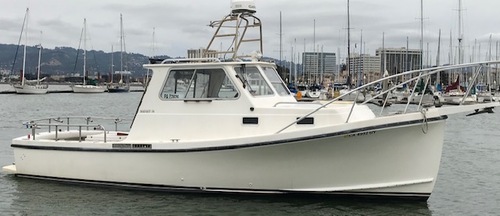 Diamond
Owner:
Kyle Dryer
Captains:
Kyle Dryer
Physical Address:

Diamond Sportfishing
3310 Powell Street
Emeryville, CA 94608
Currently Diamond is off the calendar for November & December 2022 . If your interested in having a trip with Captain Kyle Book on the Lady K ! The Diamond is a down east style boat ideal for targeting anything that swims from Antioch to the Farallon islands and beyond. Coming in at 28' long and 10'6" wide, she features a wide open back deck, seating for six, and a designated full size restroom with sink. Captain Kyle is dedicated to doing whatever it takes to put fish on the deck as we run a clean, safe, and family friendly vessel.
Rod, bait, and tackle included in all trips.