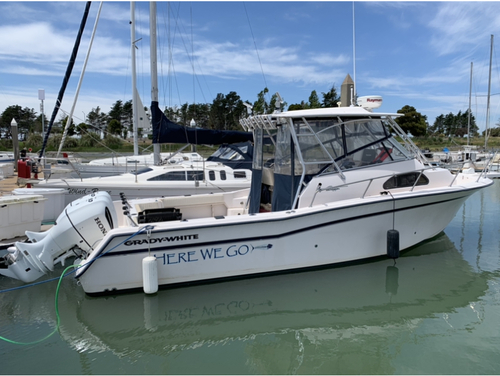 Here We Go
Owner:
Matt Archer
Captains:
Matt Archer
Physical Address:

Here We Go Sportfishing
3310 Powell Street
Emeryville, CA 94608
Boat Website:
www.herewegosportfishing.com
Captain Matt Archer, "Here We Go" The boat is a 2001 32' Grady White 300 Marlin. It is a heavy platform/wide beam (10'6") performance fishing boat that is built for rough seas, safety, speed and comfort. The deck is nearly 100 square feet with ample room to stretch out and relax. There is a private/roomy restroom with flushable head and running water.
To make your reservation please click on the green button next to the trip you would like to go on. Then follow the instructions to complete your reservation.

March, 2023

Here We Go
Sturgeon

Mon. 3-27-2023

6:30 AM

Mon. 3-27-2023

2:30 PM

6

$250

*Rod/Tackle/Bait included* *Up to Date Fishing License + Sturgeon Report Card REQUIRED* Location: 51 Marina Blvd, Pittsburg CA, 94565

Here We Go
Sturgeon

Thu. 3-30-2023

6:30 AM

Thu. 3-30-2023

2:30 PM

6

$250

*Rod/Tackle/Bait included* *Up to Date Fishing License + Sturgeon Report Card REQUIRED* Location: 51 Marina Blvd, Pittsburg CA, 94565

Here We Go
Sturgeon

Fri. 3-31-2023

6:30 AM

Fri. 3-31-2023

2:30 PM

6

$250

*Rod/Tackle/Bait included* *Up to Date Fishing License + Sturgeon Report Card REQUIRED* Location: 51 Marina Blvd, Pittsburg CA, 94565

April, 2023

Here We Go
Sturgeon

Sat. 4-1-2023

6:30 AM

Sat. 4-1-2023

2:30 PM

6

$250

*Rod/Tackle/Bait included* *Up to Date Fishing License + Sturgeon Report Card REQUIRED* Location: 51 Marina Blvd, Pittsburg CA, 94565

Here We Go
Sturgeon

Sun. 4-2-2023

6:30 AM

Sun. 4-2-2023

2:30 PM

6

$250

*Rod/Tackle/Bait included* *Up to Date Fishing License + Sturgeon Report Card REQUIRED* Location: 51 Marina Blvd, Pittsburg CA, 94565

Here We Go
Sturgeon

Mon. 4-3-2023

6:30 AM

Mon. 4-3-2023

2:30 PM

6

$250

*Rod/Tackle/Bait included* *Up to Date Fishing License + Sturgeon Report Card REQUIRED* Location: 51 Marina Blvd, Pittsburg CA, 94565

Here We Go
Sturgeon

Tue. 4-4-2023

6:30 AM

Tue. 4-4-2023

2:30 PM

6

$250

*Rod/Tackle/Bait included* *Up to Date Fishing License + Sturgeon Report Card REQUIRED* Location: 51 Marina Blvd, Pittsburg CA, 94565

Here We Go
Sturgeon

Wed. 4-5-2023

6:30 AM

Wed. 4-5-2023

2:30 PM

6

$250

*Rod/Tackle/Bait included* *Up to Date Fishing License + Sturgeon Report Card REQUIRED* Location: 51 Marina Blvd, Pittsburg CA, 94565

Here We Go
Sturgeon

Thu. 4-6-2023

6:30 AM

Thu. 4-6-2023

2:30 PM

6

$250

*Rod/Tackle/Bait included* *Up to Date Fishing License + Sturgeon Report Card REQUIRED* Location: 51 Marina Blvd, Pittsburg CA, 94565

Here We Go
Sturgeon

Fri. 4-7-2023

6:30 AM

Fri. 4-7-2023

2:30 PM

6

$250

*Rod/Tackle/Bait included* *Up to Date Fishing License + Sturgeon Report Card REQUIRED* Location: 51 Marina Blvd, Pittsburg CA, 94565

Here We Go
Sturgeon

Sat. 4-8-2023

6:30 AM

Sat. 4-8-2023

2:30 PM

6

$250

*Rod/Tackle/Bait included* *Up to Date Fishing License + Sturgeon Report Card REQUIRED* Location: 51 Marina Blvd, Pittsburg CA, 94565

Here We Go
Potluck

Sun. 4-9-2023

5:30 AM

Sun. 4-9-2023

3:00 PM

6

$250

*Rod/Tackle/Bait included*

Here We Go
Potluck

Mon. 4-10-2023

5:30 AM

Mon. 4-10-2023

3:00 PM

6

$250

*Rod/Tackle/Bait included*

Here We Go
Potluck

Wed. 4-12-2023

5:30 AM

Wed. 4-12-2023

3:00 PM

6

$250

*Rod/Tackle/Bait included*

Here We Go
Potluck

Thu. 4-13-2023

5:30 AM

Thu. 4-13-2023

3:00 PM

6

$250

*Rod/Tackle/Bait included*

Here We Go
Potluck

Fri. 4-14-2023

5:30 AM

Fri. 4-14-2023

3:00 PM

6

$250

*Rod/Tackle/Bait included*

Here We Go
Potluck

Tue. 4-18-2023

5:30 AM

Tue. 4-18-2023

3:00 PM

6

$250

*Rod/Tackle/Bait included*

Here We Go
Potluck

Wed. 4-19-2023

5:30 AM

Wed. 4-19-2023

3:00 PM

6

$250

*Rod/Tackle/Bait included*

Here We Go
Potluck

Thu. 4-20-2023

5:30 AM

Thu. 4-20-2023

3:00 PM

6

$250

*Rod/Tackle/Bait included*

Here We Go
Potluck

Fri. 4-21-2023

5:30 AM

Fri. 4-21-2023

3:00 PM

6

$250

*Rod/Tackle/Bait included*

Page 1 of 8 Next>