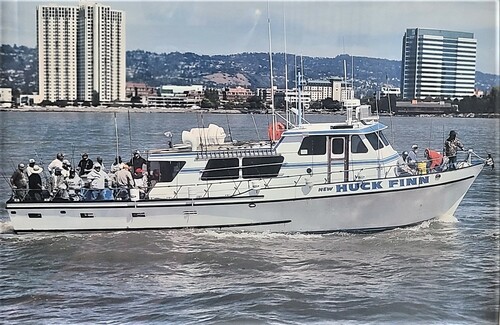 New Huck Finn
Owner:
Jay Yokomizo
Captains:
Jay Yokomizo
Physical Address:

New Huck Finn Sportfishing
3310 Powell Street
Emeryville, CA 94608
Boat Website:
Www.newhuckfinn.com
The legacy of the New Huck Finn is without peer in the San Francisco area. For over 40 years the NHF has safely carried anglers inside the bay and offshore, leaving an unmatched fish catching record. Captain Jay and Deckhand Jack Gilburn have set the bar high with their commitment, consistency, safety, and skill level at all species. Live bait specialist for striped bass, halibut, rock cod and lingcod, they also frequent the salmon grounds with impressive results.
To make your reservation please click on the green button next to the trip you would like to go on. Then follow the instructions to complete your reservation.

April, 2023

New Huck Finn
Potluck

Fri. 4-28-2023

6:00 AM

Fri. 4-28-2023

4:00 PM

22

$175

New Huck Finn

Potluck

Charter

Sat. 4-29-2023

6:00 AM

Sat. 4-29-2023

4:00 PM

New Huck Finn

Potluck

Charter

Sun. 4-30-2023

6:00 AM

Sun. 4-30-2023

3:00 PM

Charter Master : John Thompson

May, 2023

New Huck Finn
Potluck

Mon. 5-1-2023

6:00 AM

Mon. 5-1-2023

4:00 PM

22

$175

New Huck Finn
Day Off

Tue. 5-2-2023

6:00 AM

Tue. 5-2-2023

4:00 PM

0

$0

New Huck Finn
Day Off

Wed. 5-3-2023

6:00 AM

Wed. 5-3-2023

4:00 PM

0

$0

New Huck Finn
Day Off

Thu. 5-4-2023

6:00 AM

Thu. 5-4-2023

4:00 PM

0

$0

New Huck Finn
Day Off

Fri. 5-5-2023

6:00 AM

Fri. 5-5-2023

4:00 PM

0

$0

New Huck Finn
Potluck

Sat. 5-6-2023

6:00 AM

Sat. 5-6-2023

4:00 PM

22

$200

New Huck Finn

Potluck

Charter

Sat. 5-6-2023

6:00 AM

Sat. 5-6-2023

4:00 PM

New Huck Finn

Potluck

Charter

Sun. 5-7-2023

6:00 AM

Sun. 5-7-2023

3:00 PM

CHARTER MASTER: DAN HERNANDEZ

New Huck Finn
Potluck

Mon. 5-8-2023

6:00 AM

Mon. 5-8-2023

4:00 PM

22

$175

New Huck Finn

Potluck

Charter

Tue. 5-9-2023

6:00 AM

Tue. 5-9-2023

4:00 PM

Charter Master Laborers Retirees Club Charter Master Laborers Retirees Club

New Huck Finn
Potluck

Wed. 5-10-2023

6:00 AM

Wed. 5-10-2023

4:00 PM

22

$175

New Huck Finn
Potluck

Thu. 5-11-2023

6:00 AM

Thu. 5-11-2023

4:00 PM

22

$175

New Huck Finn
Potluck

Fri. 5-12-2023

6:00 AM

Fri. 5-12-2023

4:00 PM

22

$175

New Huck Finn

Potluck

Charter

Sat. 5-13-2023

6:00 AM

Sat. 5-13-2023

4:00 PM

New Huck Finn
Potluck

Sun. 5-14-2023

6:00 AM

Sun. 5-14-2023

4:00 PM

22

$200

New Huck Finn
Potluck

Mon. 5-15-2023

6:00 AM

Mon. 5-15-2023

4:00 PM

22

$175

New Huck Finn
Potluck

Tue. 5-16-2023

6:00 AM

Tue. 5-16-2023

4:00 PM

22

$175

<Prev Page 2 of 12 Next>