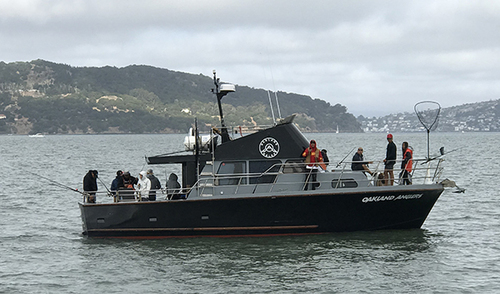 Oakland Anglers
Owner:
Brandon Suguitan
Captains:
Brandon Suguitan
Physical Address:

Oakland Anglers Sportfishing
3310 Powell Street
Emeryville, CA 94608
Boat Website:
www.oaklandanglers.com/
The Oakland anglers crew is committed to exceptional customer service paired with putting fish on the deck. The 40' boat fishes 14 people comfortably and limited loads allows the crew to provide an experience that is second to none. All crew members are vaccinated and maintained a sanitized/clean boat throughout your trip. Captain Brandon takes pride in putting his customers on quality fishing by going above and beyond to ensure that. Find us at @OaklandAnglers , or https://www.instagram.com/oaklandanglers/
Charter Rates
Trip Types
Season
Anglers
Price
Half Day - Live bait Potluck, Coastal Rockfish/Lingcod
RockFish/Lingcod or Potluck
16
$2,300
Full Day
Dungeness Crab/Coastal Rockfish
16
$3,250
Half Day Dungeness Crab Only
17
$2,500
Prices subject to change without notice. Call the landing for exact pricing.
To make your reservation please click on the green button next to the trip you would like to go on. Then follow the instructions to complete your reservation.
No trips found.