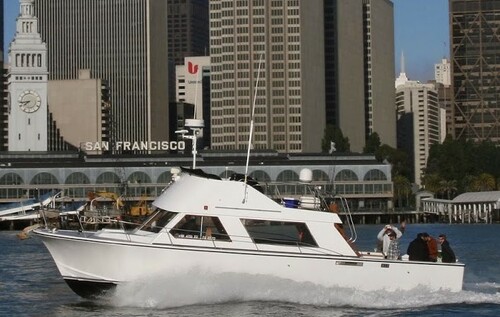 Playn Hooky
Owner:
Andrew Guiliano
Captains:
Andrew Guiliano
Physical Address:

Playn Hooky Sportfishing
3310 Powell Street
Emeryville, CA 94608
Boat Website:
www.PacificPearlCharters.com
Charter Rates
Trip Types
Season
Anglers
Price
Private Charter
RockFish/Lingcod or Potluck
6
$1,800
Private Charter
Dungeness Crab/Coastal Rockfish
6
$1,950
Private Charter
Salmon
6
$1,950
Half Day - Private Charter
RockFish/Lingcod or Potluck
6
$1,650
Private Charter - Crab Only
6
$1,200
Prices subject to change without notice. Call the landing for exact pricing.
The Playn Hooky is the most comfortable Six-Pack boat on the bay! Interior seating for 6, Full galley and the cleanest restroom in the Fleet! Available for Full and Half day private charters. April-June we target California Halibut and Striped Bass inside San Francisco Bay. Summer months are spent along the Marin and San Mateo County coastline targeting King Salmon, Halibut, Rockfish and Lingcod. November/December are Dungeness Crab season offering Rockfish/Crab Combo trips and Crab only trips daily, weather permitting.
To make your reservation please click on the green button next to the trip you would like to go on. Then follow the instructions to complete your reservation.

May, 2023

Playn Hooky
Halibut and Striped Bass

Sat. 5-6-2023

6:00 AM

Sat. 5-6-2023

3:00 PM

6

$275

Full & Half day Private Charters available. Please call landing at 510-652-3403 Ext 0. All trips include Rod and Tackle.

Playn Hooky
Halibut and Striped Bass

Thu. 5-11-2023

6:00 AM

Thu. 5-11-2023

3:00 PM

6

$275

Full & Half day Private Charters available. Please call landing at 510-652-3403 Ext 0. All trips include Rod and Tackle.

Playn Hooky
Halibut and Striped Bass

Fri. 5-12-2023

6:00 AM

Fri. 5-12-2023

3:00 PM

6

$275

Full & Half day Private Charters available. Please call landing at 510-652-3403 Ext 0. All trips include Rod and Tackle.

Playn Hooky
Halibut and Striped Bass

Sat. 5-13-2023

6:00 AM

Sat. 5-13-2023

3:00 PM

6

$275

Full & Half day Private Charters available. Please call landing at 510-652-3403 Ext 0. All trips include Rod and Tackle.

Playn Hooky
Halibut and Striped Bass

Thu. 5-18-2023

6:00 AM

Thu. 5-18-2023

3:00 PM

6

$275

Full & Half day Private Charters available. Please call landing at 510-652-3403 Ext 0. All trips include Rod and Tackle.

Playn Hooky
Halibut and Striped Bass

Fri. 5-19-2023

6:00 AM

Fri. 5-19-2023

3:00 PM

6

$275

Full & Half day Private Charters available. Please call landing at 510-652-3403 Ext 0. All trips include Rod and Tackle.

Playn Hooky
Halibut and Striped Bass

Sat. 5-20-2023

6:00 AM

Sat. 5-20-2023

3:00 PM

6

$275

Full & Half day Private Charters available. Please call landing at 510-652-3403 Ext 0. All trips include Rod and Tackle.

Playn Hooky
Halibut and Striped Bass

Thu. 5-25-2023

6:00 AM

Thu. 5-25-2023

3:00 PM

6

$275

Full & Half day Private Charters available. Please call landing at 510-652-3403 Ext 0. All trips include Rod and Tackle.

Playn Hooky
Halibut and Striped Bass

Fri. 5-26-2023

6:00 AM

Fri. 5-26-2023

3:00 PM

6

$275

Full & Half day Private Charters available. Please call landing at 510-652-3403 Ext 0. All trips include Rod and Tackle.

Playn Hooky
Halibut and Striped Bass

Sat. 5-27-2023

6:00 AM

Sat. 5-27-2023

3:00 PM

6

$275

Full & Half day Private Charters available. Please call landing at 510-652-3403 Ext 0. All trips include Rod and Tackle.

June, 2023

Playn Hooky
Halibut and Striped Bass

Thu. 6-1-2023

6:00 AM

Thu. 6-1-2023

3:00 PM

6

$275

Full & Half day Private Charters available. Please call landing at 510-652-3403 Ext 0. All trips include Rod and Tackle.

Playn Hooky
Halibut and Striped Bass

Fri. 6-2-2023

6:00 AM

Fri. 6-2-2023

3:00 PM

6

$275

Full & Half day Private Charters available. Please call landing at 510-652-3403 Ext 0. All trips include Rod and Tackle.

Playn Hooky
Halibut and Striped Bass

Sat. 6-3-2023

6:00 AM

Sat. 6-3-2023

3:00 PM

6

$275

Full & Half day Private Charters available. Please call landing at 510-652-3403 Ext 0. All trips include Rod and Tackle.

Playn Hooky
Halibut and Striped Bass

Thu. 6-8-2023

6:00 AM

Thu. 6-8-2023

3:00 PM

6

$275

Full & Half day Private Charters available. Please call landing at 510-652-3403 Ext 0. All trips include Rod and Tackle.

Playn Hooky
Halibut and Striped Bass

Fri. 6-9-2023

6:00 AM

Fri. 6-9-2023

3:00 PM

6

$275

Full & Half day Private Charters available. Please call landing at 510-652-3403 Ext 0. All trips include Rod and Tackle.

Playn Hooky
Halibut and Striped Bass

Sat. 6-10-2023

6:00 AM

Sat. 6-10-2023

3:00 PM

6

$275

Full & Half day Private Charters available. Please call landing at 510-652-3403 Ext 0. All trips include Rod and Tackle.

Playn Hooky
Halibut and Striped Bass

Thu. 6-15-2023

6:00 AM

Thu. 6-15-2023

3:00 PM

6

$275

Full & Half day Private Charters available. Please call landing at 510-652-3403 Ext 0. All trips include Rod and Tackle.

Playn Hooky
Halibut and Striped Bass

Fri. 6-16-2023

6:00 AM

Fri. 6-16-2023

3:00 PM

6

$275

Full & Half day Private Charters available. Please call landing at 510-652-3403 Ext 0. All trips include Rod and Tackle.

Playn Hooky
Halibut and Striped Bass

Sat. 6-17-2023

6:00 AM

Sat. 6-17-2023

3:00 PM

6

$275

Full & Half day Private Charters available. Please call landing at 510-652-3403 Ext 0. All trips include Rod and Tackle.

Playn Hooky
Halibut and Striped Bass

Thu. 6-22-2023

6:00 AM

Thu. 6-22-2023

3:00 PM

6

$275

Full & Half day Private Charters available. Please call landing at 510-652-3403 Ext 0. All trips include Rod and Tackle.

<Prev Page 2 of 3 Next>