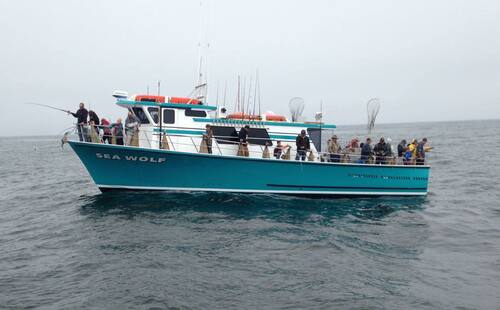 Sea Wolf
Owner:
Jon Yokomizo
Captains:
Jon Yokomizo
Physical Address:

Sea Wolf Sportfishing
3310 Powell Street
Emeryville, CA 94608
Boat Website:
www.seawolfsportfishing.com
Owner Jon Yokomizo and Captain Joe Hobbs operate what many consider the premier Rockfish and Lingcod boat along the Northern California Coast. The boat consistently ranks near the top annually in Lingcod scores and is committed daily to put anglers over quality rockfish action. One of the fastest vessels in the fleet, they will search far and wide to insure their customers a great angler experience.
To make your reservation please click on the green button next to the trip you would like to go on. Then follow the instructions to complete your reservation.

April, 2023

Sea Wolf

Private Trip

Charter

Sun. 4-16-2023

6:00 AM

Sun. 4-16-2023

3:00 PM

May, 2023

Sea Wolf

Private Trip

Charter

Sat. 5-13-2023

6:00 AM

Sat. 5-13-2023

3:00 PM

Sea Wolf

Private Trip

Charter

Sun. 5-21-2023

6:00 AM

Sun. 5-21-2023

3:00 PM

June, 2023

Sea Wolf

Private Trip

Charter

Sun. 6-18-2023

6:00 AM

Sun. 6-18-2023

3:00 PM

July, 2023

Sea Wolf

Private Trip

Charter

Sun. 7-16-2023

6:00 AM

Sun. 7-16-2023

3:00 PM

August, 2023

Sea Wolf

Rockfish/Lingcod

Charter

Sun. 8-6-2023

6:00 AM

Sun. 8-6-2023

4:00 PM

Sea Wolf

Private Trip

Charter

Sun. 8-13-2023

6:00 AM

Sun. 8-13-2023

3:00 PM

September, 2023

Sea Wolf

Private Trip

Charter

Sun. 9-17-2023

6:00 AM

Sun. 9-17-2023

3:00 PM

October, 2023

Sea Wolf

Private Trip

Charter

Sun. 10-1-2023

6:00 AM

Sun. 10-1-2023

4:00 PM

CHARTER MASTER: DAN HERNANDEZ

Sea Wolf

Rockfish/Lingcod

Charter

Sat. 10-7-2023

5:30 AM

Sat. 10-7-2023

4:00 PM

Sea Wolf

Private Trip

Charter

Sun. 10-15-2023

6:00 AM

Sun. 10-15-2023

3:00 PM

Sea Wolf

Rockfish/Lingcod

Charter

Sat. 10-21-2023

5:30 AM

Sat. 10-21-2023

4:00 PM

November, 2023

Sea Wolf

Crab Combo

Charter

Sat. 11-11-2023

6:00 AM

Sat. 11-11-2023

3:00 PM

Charter Master: HARMINDAR SINGH

Sea Wolf

Private Trip

Charter

Sun. 11-19-2023

6:00 AM

Sun. 11-19-2023

3:00 PM

December, 2023

Sea Wolf

Private Trip

Charter

Sun. 12-17-2023

6:00 AM

Sun. 12-17-2023

3:00 PM