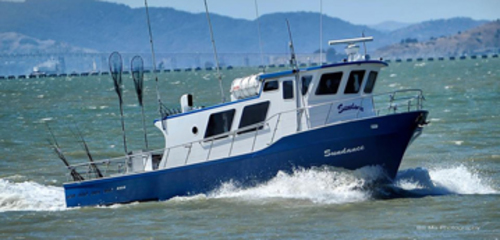 Sundance
Owner:
R.J. Waldron
Captains:
R.J. Waldron
Physical Address:

Sundance Sportfishing
3310 Powell Street
Emeryville, CA 94608
Captain RJ Waldron and the Sundance have been one of the leaders in the expanding 6 pack boat industry. At 43 feet, the Sundance is one of the largest and most spacious in the fleet. Along with a well appointed cabin and plenty of rail space, Rj has great passion and drive to put his customers over quality fishing action. A consistent "High-Liner" among the salmon fleet, the boat is also a top performer for live bait for Striped bass, Halibut, Rockfish and Lingcod.
To make your reservation please click on the green button next to the trip you would like to go on. Then follow the instructions to complete your reservation.

April, 2023

Sundance
Halibut and Striped Bass

Sat. 4-1-2023

6:00 AM

Sat. 4-1-2023

3:00 PM

6

$240

1/2 days available upon request *Rod/Tackle/Bait included*

Sun. 4-2-2023

6:00 AM

Sun. 4-2-2023

1:00 PM

Mon. 4-3-2023

6:00 AM

Mon. 4-3-2023

1:00 PM

Sundance
Halibut and Striped Bass

Tue. 4-4-2023

6:00 AM

Tue. 4-4-2023

3:00 PM

6

$240

1/2 days available upon request *Rod/Tackle/Bait included*

Sundance
Halibut and Striped Bass

Wed. 4-5-2023

6:00 AM

Wed. 4-5-2023

3:00 PM

6

$240

1/2 days available upon request *Rod/Tackle/Bait included*

Sundance
Halibut and Striped Bass

Thu. 4-6-2023

6:00 AM

Thu. 4-6-2023

3:00 PM

6

$240

1/2 days available upon request *Rod/Tackle/Bait included*

Sundance
Halibut and Striped Bass

Fri. 4-7-2023

6:00 AM

Fri. 4-7-2023

3:00 PM

6

$240

1/2 days available upon request *Rod/Tackle/Bait included*

Sundance
Halibut and Striped Bass

Sat. 4-8-2023

6:00 AM

Sat. 4-8-2023

3:00 PM

6

$240

1/2 days available upon request *Rod/Tackle/Bait included*

Sun. 4-9-2023

6:00 AM

Sun. 4-9-2023

3:00 PM

Sundance
Halibut and Striped Bass

Mon. 4-10-2023

6:00 AM

Mon. 4-10-2023

3:00 PM

6

$240

1/2 days available upon request *Rod/Tackle/Bait included*

Sundance
Halibut and Striped Bass

Tue. 4-11-2023

6:00 AM

Tue. 4-11-2023

3:00 PM

6

$240

1/2 days available upon request *Rod/Tackle/Bait included*

Sundance
Halibut and Striped Bass

Wed. 4-12-2023

6:00 AM

Wed. 4-12-2023

3:00 PM

6

$240

1/2 days available upon request *Rod/Tackle/Bait included*

Sundance
Halibut and Striped Bass

Thu. 4-13-2023

6:00 AM

Thu. 4-13-2023

3:00 PM

6

$240

1/2 days available upon request *Rod/Tackle/Bait included*

Sundance
Halibut and Striped Bass

Fri. 4-14-2023

6:00 AM

Fri. 4-14-2023

3:00 PM

6

$240

1/2 days available upon request *Rod/Tackle/Bait included*

Sundance
Halibut and Striped Bass

Sat. 4-15-2023

6:00 AM

Sat. 4-15-2023

3:00 PM

6

$240

1/2 days available upon request *Rod/Tackle/Bait included*

Sundance
Halibut and Striped Bass

Sun. 4-16-2023

6:00 AM

Sun. 4-16-2023

3:00 PM

6

$240

1/2 days available upon request *Rod/Tackle/Bait included*

Sundance
Halibut and Striped Bass

Mon. 4-17-2023

6:00 AM

Mon. 4-17-2023

3:00 PM

6

$240

1/2 days available upon request *Rod/Tackle/Bait included*

Sundance
Halibut and Striped Bass

Tue. 4-18-2023

6:00 AM

Tue. 4-18-2023

3:00 PM

6

$240

1/2 days available upon request *Rod/Tackle/Bait included*

Sundance
AM Half Day

Mon. 4-24-2023

6:00 AM

Mon. 4-24-2023

1:00 PM

6

$185

AM Half Day Halibut/Striped Bass. *Rod/Tackle/Bait included*

Tue. 4-25-2023

6:00 AM

Tue. 4-25-2023

1:00 PM

Page 1 of 9 Next>